Press
"Teaching young kids how to junk bad eating habits" by Hattie Bernstein, 2018… "Everything is so fast. People eat in their car," said Lori Deliso, cofounder and owner of Lexington-based Kids Cooking Green, which runs an after-school program at the Community Nursery School. "There are no sit-down dinners where people can appreciate being together as a family."
In Lexington, registered dietitian Liz Weiss urges parents to get their kids involved. "Take kids grocery shopping and don't let them hold the cellphone to distract them," said Weiss, who works with Kids Cooking Green. Use the whole supermarket. Frozen, canned, dry, fresh, organic, or conventionally grown. Eat more fruits and vegetables. Think color. Introduce a variety. . . ."
But don't expect overnight success. Like learning to read and write or ride a bike, healthy eating is a process that takes time.
---
 Get More Out of Boston with Kids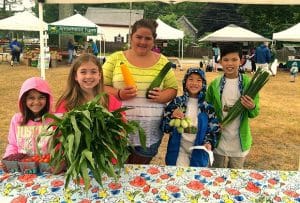 With an eye toward grounding kids in the importance of fresh, local ingredients comes Kids Cooking Green!
"Cooking with Kids in and Around Boston: Classes, Camps, and Parties" 2017 – By Audrey Trieschman
Whether our kids are adventurous eaters or too timid to try anything beyond boxed mac 'n' cheese, teaching them about food prep, healthy eating, and nutrition is one of the more important things we as parents can do for their well being. Cooking together at home is one way to do this, but there are also plenty of opportunities for "instructive" fun through kids' cooking classes and workshops.
---
In 2007, Lori Deliso and Liza Connolly, two Lexington moms concerned about the lack of "real" foods in kids' diets and the desire to teach children about the benefits of eating locally and sustainably, cooked up a five week after-school program called Kids Cooking Green.
---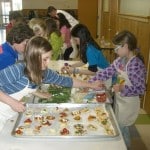 Locavore Program Feeds Students' Minds, Bodies
"Anbody hungry yet?" Lori Deliso asked.
The Thoreau students chorused "Me!" as they gathered in the school's cafeteria kitchen to learn how to "bread" chicken with cornflakes.
---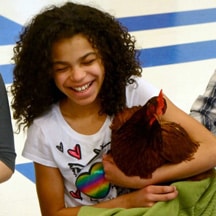 Our guest editors for this issue of the Network News are the wonderful chef-educators from Kids Cooking Green in Lexington. KCG is a fantastic example of the programming possibilities that emerge at the intersection of local food, curious kids, and dedicated educators. If you would like to be a future guest editor, please contact Erika at Mass. Farm to School Project to hear how it works.
Read on for a profile of KCG, a delicious fall recipe, links to many upcoming farm- and food-related educational events (including an October Network gathering at Moraine Farm), and opportunities for educating Massachusetts students about their food, their landscapes, and their communities.
---

Columbus School Kids Learn to 'Cook Green' March 2013
"A group of fourth and fifth-graders seized control of the Columbus School cafeteria last Friday, preparing a home-cooked meal for their families under the tutelage of a local chef.
The cafeteria takeover was part of the "Kids Cooking Green" program, a series of classes and activities aimed at teaching students the importance of eating nutritious and locally grown foods."
---
Cooking Dinner in Suburbia
 Winter 2013

"The activity in the kitchen is dizzying: tablecloths are being spread, places set, drinks poured, centerpieces … centered. Behind the kitchen door, steady hands put the finishing touches on dinner, tossing local greens with Brussels sprouts and dried cranberries and sprinkling scratch-made spinach and egg pasta with fresh Parmesan. Cranberry oatmeal cookies, just taken from the oven, are placed on trays.
---
"Our Heroes this month, Liza Connolly and Lori Deliso, were tired of the grumbling and wanted to do something. These two ladies, who are professionally trained chefs and each work closely with their local farmers market, saw what their children's schools were preparing for lunch, and were upset. "School Lunch was one of my first 'activist' things," says Liza, who started her activism by helping to add a garden to her child's school. She quickly discovered how tough change was going to be, "…in public schools it's harder to include stuff like gardens when there are tests."
---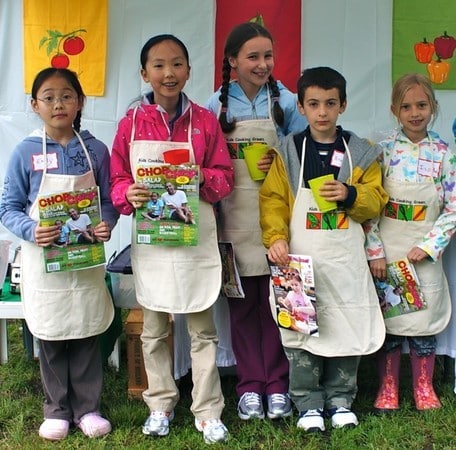 Kids Cooking Green Go To Market 
June 2012
"Kids who attended a recent free Kids Cooking Green workshop at the Lexington Farmers' Market got a taste of summer and a lot of great information about fun and healthy eating. Dietician Joy McCallum, who specializes in pediatric nutrition, talked with kids about eating a rainbow of colorful foods.  The kids learned  that peppers alone, grow in colors from red, orange, yellow to green, and offer a burst of color and flavor on their plate."
---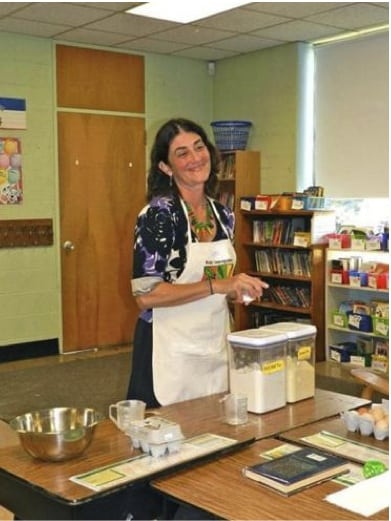 Lexington woman offers lessons on cooking locally grown food 
August 2012
HEALTHY LESSONS:
Lori Deliso of Lexington is in her sixth year helping direct Kids Cooking Green, a hands-on, educational outreach program of the Lexington Farmers Market that teaches students how to select locally grown food and then prepare it in the kitchen.
A recent award from All-Clad Metalcrafters, in conjunction with Share Our Strength and Partnership for a Healthier America, enables participants to prepare their creations on professional grade equipment. Each of the five donated cookware kits includes an induction burner, saute pan, two smaller sauce pans, mixing bowls, measuring cups, a cutting board, knife, tongs, and utensils. Local classes take place in Arlington, Bedford, Lexington, and Wellesley, as well as Medford and Wilmington.
During the five-week program, kids learn cooking skills, nutrition, and why food from local sources has a lesser environmental impact. During the five-week program, kids learn cooking skills, nutrition, and why food from local sources has a lesser environmental impact. Food scraps from recipes such as fruit smoothies, tomato and mozzarella sliders, multigrain crepes, blueberry cobbler, and other recipes are composted. Deliso, who cofounded Kids Cooking Green with fellow Lexington resident Liza Connolly in 2006, said the entire family benefits from the program's lessons in decision-making for a healthier body and environment. "I hope kids walk away with a love and appreciation for food and cooking," said Deliso, who is also a cofounder of the Lexington Farmers Market. "Empowered with the knowledge, they can make a difference."
---

Kids Cooking Green in Bedford!
April 2011
"Kids, start your blenders! Organizing a party for 55 hungry guests is no easy task, especially when you are 10 years old! Throw the challenge of having the menu consist of only foods that are grown locally, and the fact that the menu must be nutritionally balanced and you have a real life challenge. The students are part of a 4 week, after school Recreation Department Program called Kids Cooking Green, held at the Job Lane Elementary School.
The program aims to introduce kids to the importance of eating locally grown foods, and empower them with the knowledge that their choices can make a difference in their own health, and in the health of their environment while learning life long cooking skills, and having fun."
---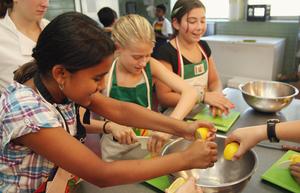 Young chefs serve food for thought…
October 2011
"The locavore movement may be synonymous with green, but it was the flavors of the great blue that were on the menu at this week's seafood-inspired Kids Cooking Green dinner. On Monday, Oct. 17, Chef Tiger, executive chef at the New England Aquarium, led a team of 23 fifth-graders in preparing and serving a three-course meal to more than 100 people at the Estabrook School."